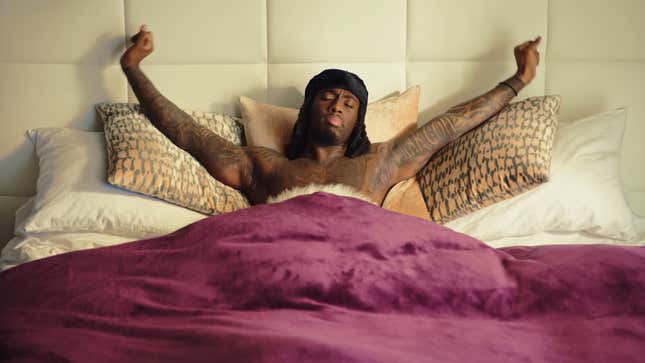 Kai Cenat, the 21-year-old rising Twitch star who took the Amazon-owned livestreaming platform by storm in 2021 and 2022, has smashed another record on the last day of Black History Month. This time, it was the record for the streamer with the most active subscribers, an accolade previously attained by Tyler "Ninja" Blevins in April 2018 and Ludwig "Ludwig" Ahgren in April 2021.

The Top 10 Most-Played Games On Steam Deck: July 2023 Edition
Cenat is a long-time content creator, having started his YouTube channel in December 2012 before transitioning to Twitch livestreaming in February 2021. Primarily known for comical vlogging, prank videos, and his bombastic personality, Cenat plays Fortnite, GTA V, NBA 2K23, and other games on stream. However, more often than not, you'll see Cenat popping off in the Just Chatting category, where he reacts to content, gets rowdy with his chat, and hangs out with rappers like Ice Spice and Lil Baby. He's even appeared in Lil Uzi Vert's "Just Wanna Rock" music video. As his Twitter bio states, Cenat is a "lit content creator" and the pedigree of folks around him is pretty evident of that. But if none of this rings a bell, you might know Cenat for calling out Twitch in September 2022 for ignoring his community after surpassing Félix "xQc" Lengyel as the most subscribed livestreamer.
Read More: Streamer Kai Cenat Calls Out Twitch After Overtaking xQc For Most Subs
Cenat's latest milestone might bring more reason to celebrate with his 306,000 active Twitch subscribers. The distinction highlights Cenat's ability to not only grab people's attention and get them to subscribe, but also to build an active community. This is a world record for the platform, one two other famous broadcasters—Ninja in April 2018 with an all-time high of 269,154 and Ludwig in April 2021 with 283,066—have previously broken. This comes after the streamer's month-long subathon throughout February, in which a streamer goes live for as long as possible (usually one month) to boost their numbers. By the look of things, he isn't done with his subathon just yet. But the best part about this record-breaking event? Cenat bodied the record on February 28, the last day of Black History Month.
The moment Cenat smashed the record on stream was both emotional and hype to watch. As he quickly overtook Ludwig's record, Cenat's mom called him crying, congratulating him on the achievement, saying everyone was "going crazy" for him. Cenat was reduced to tears as his family also pointed out that the milestone was surpassed during Black History Month, a reminder that Black folks, no matter what their backgrounds are, can do some amazing things, too.
Still, I'd be remiss not to mention the allegations levied against a friend of Cenat's at the start of the year. Content creator Jovi Pena claims Djigui Sack, Cenat's friend, raped her at a party Cenat invited her to. She went on to say that Cenat seemingly downplayed the situation, claiming to not know Sack only for Pena to pull up pictures of the two on Instagram as evidence of the contrary. Cenat responded to the allegations, saying Sack was "in complete shock and confused" over what Pena said. Cenat has remained quiet on the matter, saying it's for the police to handle and that folks shouldn't harass Pena for any reason.
Kotaku reached out to Cenat, Twitch, and Sack for comment.
All that said, breaking this world record on the livestreaming platform is still cause for celebration, especially considering how few Black streamers there are in Twitch's top percentile. Maybe Cenat's milestone will give way to other BIPOC broadcasters eager to reach the same heights—or even greater.