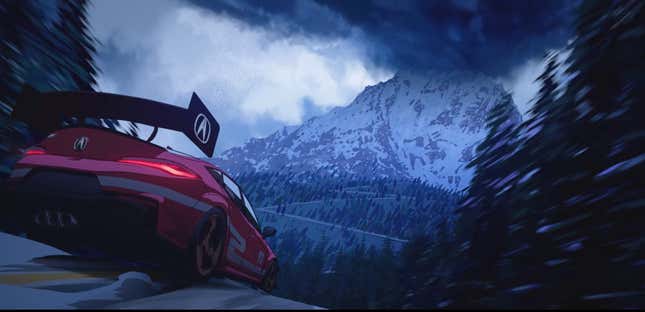 Fasten your seatbelts, anime lovers. Type S: Chiaki's Journey, presented by Acura, is back for a second season. Last year, the automaker brought us an artfully illustrated and grippingly told series that paid homage to its identity as the first Japanese luxury car company to land in the US. This year, our favorite characters are back, and the stakes are higher than ever.

In Season 1, we met Chiaki, a young Japanese-American driver shadowing her wise uncle Noboru at his Long Beach, California, body shop. One day, she makes the impetuous decision to challenge a show-off professional driver named Erich, and Chiaki holds her own.
Impressed by his niece's talent, but well aware of her "rough around the edges" technique, Noboru trains Chiaki to drive like a pro, following the mantra "be one with the machine." After Erich stumbles upon the uncle/ niece team practicing at their family's training grounds, the two young drivers challenge each other to a night race. In spite of her opponent throwing everything he has at her, our heroine emerges victorious thanks to her Acura NSX Type S supercar.
This year, Chiaki's challenge is even more personal. Instead of a man as her opponent, this time it's the Pikes Peak International Hill Climb—12.42 miles of alpine road, 156 turns, and a climb of more than 14,115 feet—not to mention, a family legacy to defend.
Watch every episode of the Type S: Chiaki's Journey II below.
Volume 1
Type S: Chiaki's Journey II Volume 1
Type S: Chiaki's Journey II Volume 1
Following last season's cliffhanger in which a mysterious voice claims the next race against Chiaki, our protagonist zooms back onto our screens in a brand-new Apex Blue Pearl Integra A-Spec®. In the middle of a training session with her uncle, the man behind that challenge shows up to watch, and we unmask him.

Known only as P, this slick trainer and former cohort of Noboru's has been scouting Chiaki for some time, hoping to fill an open spot on his team. P teases an exciting challenge to the talented young driver: the Pikes Peak International Hill Climb. She lights up at the invitation, unaware of her family's history with this particular course.
Volume 2
Type S: Chiaki's Journey II Volume 2
Type S: Chiaki's Journey II Volume 2
Flashback to 1997 the Pikes Peak International Hill Climb, as a young Noboru and P as the pit crew and Ichiro (Chiaki's father) as the driver—gaze up at their challenge: 12.42 miles of twisting, turning road up to the summit. (Diehard fans of the racing anime genre will know that the IMSA reference is a nod to Acura's long-standing involvement with this particular motorsports association.)

This team tackles the frozen-over path aggressively as hail and snow pelt the vehicle. Noboru advises Ichiro to heed the storm and slow down, but he pushes on. In the end, the course defeats him.
Back in the present day, Noboru wonders aloud why on Earth Chiaki would want to take on the same treacherous mountain, but our heroine isn't one to shy away from a challenge: "We're going to finish what Dad started," she exclaims.
Volume 3
Type S: Chiaki's Journey II Volume 3
Type S: Chiaki's Journey II Volume 3
Noboru isn't about to let his protégé take on this feat without the perfect machine. So Chiaki meets him at his body shop, where the two build a road-warrior-worthy Acura Integra Type S.

Just as Acura builds its vehicles for ultimate precision (in fact, the brand's name is derived from the latin "Acu" meaning "precise"), the wise pro outfits Chiaki's ride with everything she needs—a race-proven 320-hp 2.0-liter, VTEC® turbo engine, short-throw 6-speed manual transmission, and widebody design.
Volume 4
Type S: Chiaki's Journey II Volume 4
Type S: Chiaki's Journey II Volume 4
This season's final episode opens on Chiaki entering the second leg of the Pikes Peak International Hill Climb. As fate would have it, another storm is raging, pummeling her car with snow and seriously limiting her visibility. Mother Nature proves a worthy opponent, but Chiaki's will and trust in her machine never waver. She shifts the vehicle into sport mode and deftly angles into each turn, bending with the wind just like her uncle taught her. This one's for Ichiro, who might one day emerge from the shadows.

Test your own limits with the high-performance Acura Integra Type S.
This post is a sponsored collaboration between Acura and G/O Media Studios.