A new image of what appears to be the entire character roster for upcoming fighter Nickelodeon All-Star Brawl 2 has seemingly leaked online, giving players a huge look at who else will be fighting alongside Garfield and SpongeBob SquarePants.
The Top 10 Most-Played Games On Steam Deck: July 2023 Edition
Announced on July 27, All-Star Brawl 2 is the follow-up to the original Nickelodeon All-Star Brawl released back in 2021. That game built up a lot of hype before launch, but once out it garnered mixed reactions. Many loved its tight, Smash Bros.-like gameplay, but it also got criticized for feeling low-budget. Another problem players had with it was the fact that some popular Nickelodeon characters were missing. The newly leaked art for All-Star Brawl 2 seems to indicate some of those fan favorites are showing up for round two, but also that some past fighters won't be returning.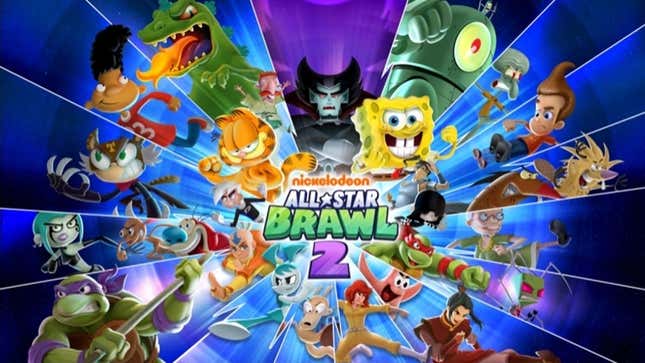 On August 1, an image of what appears to be the full splash art for All-Star Brawl 2 began spreading across Reddit, Twitter, and the ResetEra forum. The origins of the image seem to trace back to an Amazon listing that was quickly deleted, but not fast enough apparently.

Kotaku has reached out to Game Mill and Fair Play Labs about the leaked image, but received no comment.

All-Star Brawl 2's potential new characters
Looking at the artwork, we can spot nine new characters who weren't seen in the game's first trailer and who are yet to be confirmed by the game's developers or publisher.
Azula from Avatar: The Last Airbender
Gerald from Hey Arnold
Plankton from SpongeBob SquarePants
Grandma Gertie from Hey Arnold
Ember from Danny Phantom
Norbert and Daggett from Angry Beavers
El Tigre from El Tigre: The Adventures of Manny Rivera
The supposedly leaked artwork—which remember, hasn't been confirmed by the devs yet—also includes five characters we saw in the game's first trailer and screenshots:
Donatello from Teenage Mutant Ninja Turtles
Raphael from Teenage Mutant Ninja Turtles
Jimmy Neutron from Jimmy Neutron
Squidward from SpongeBob SquarePants
Vlad Plasmius from Danny Phantom
Finally, the artwork shows 14 characters who first appeared in the original All-Star Brawl and who appear to be returning for the upcoming sequel.
Aang from Avatar: The Last Airbender
April O'Neil from Teenage Mutant Ninja Turtles
Danny Phantom from Danny Phantom
Garfield from Garfield
Jenny from My Life as a Teenage Robot
Korra from The Legend of Korra
Lucy Loud from The Loud House
Nigel Thornberry from The Wild Thornberrys
Patrick from SpongeBob SquarePants
Ren and Stimpy from The Ren & Stimpy Show
Reptar from Rugrats
Rocko from Rocko's Modern Life
SpongeBob from SpongeBob SquarePants
Zim from Invader Zim
The All-Star Brawl characters who might have been cut
If you've played the first game, this might be the point where you start going "Wait a minute, does that mean [Insert Character Here] has been cut from the sequel?" And the answer is…maybe!

According to Fair Play Labs studio director Diego Rodriguez in an interview with Polygon, not everyone is coming back for All-Star Brawl 2. Rodriguez called the decision on who will and who won't return "probably one of the hardest" the team had to make.

"A lot of thought came into it," said Rodriguez. "We looked a lot at the reaction on the roster of the first game, what were the more requested characters by the community, and also what we can achieve with the vast list of amazing Nick characters, and of course, we had Nick input as well. Just wait a bit and you will know who made it and who didn't!"

Based on the leaked image, these are the characters who possibly haven't made the cut for the sequel:
CatDog from CatDog
Helga from Hey Arnold!
Hugh Neutron from Jimmy Neutron
Leonardo from Teenage Mutant Ninja Turtles
Michelangelo from Teenage Mutant Ninja Turtles
Oblina from Aaahh!!! Real Monsters
Powdered Toast Man from The Ren & Stimpy Show
Sandy from SpongeBob SquarePants
Shredder from Teenage Mutant Ninja Turtles
Toph from Avatar: The Last Airbender
Lincoln Loud from The Loud House
But wait, before you get out your pitchforks and start yelling at people on Twitter or whatever Elon Musk is calling it this week, let's keep a few things in mind. One, it's possible the leaked artwork doesn't show every character in the game. When a similar piece of splash art leaked ahead of the first game's launch, it didn't include Nigel, who was added later. Secondly, dedicated fans have combed through all the screenshots and released videos and discovered some evidence that some of these characters (or at least their stages) will return in the sequel.

Really, until the developers confirm who is in the game and who isn't, we won't know for sure. But all you CatDog fans out there, be prepared for some heartache when Nickelodeon All-Star Brawl 2 launches later this year.