Creamy italian antipasto pasta salad. Creamy Italian Pasta Salad, the perfect Summer Pasta recipe made with fresh tomatoes, avocado, zucchini and herbs and a deliciously creamy Homemade Italian Dressing. Watch how to make Italian Antipasto Tortellini Pasta Salad. I'm cheating a little bit with this salad.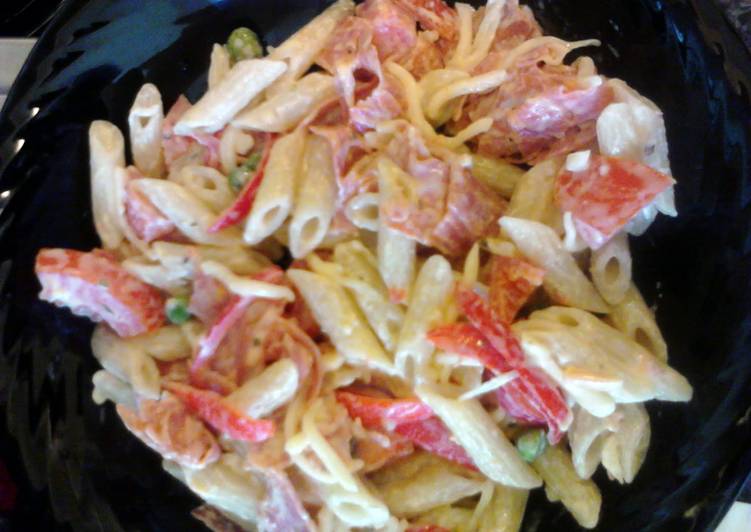 This colorful, Italian Antipasto Salad is perfect for lunch and so easy to make! Cold antipasto is usually the first course of an Italian meal, which consists of a variety of cold meats, cheeses, olives, roasted peppers, and a variety of colorful vegetables that have been pickled in vinegar known as. Italian pasta salad is made with fresh vegetables, cheese, salami, and a vinaigrette are tossed with your favorite pasta to create an perfect dish for any potluck. You can cook Creamy italian antipasto pasta salad using 8 ingredients and 6 steps. Here is how you achieve that.
Ingredients of Creamy italian antipasto pasta salad
Prepare 1 1/4 cup of Salami.
Prepare 1 1/4 of Strips provolone cheese.
It's 1 1/2 box of Penne rigate pasta.
It's 1 1/4 of Strips red bell pepper(1 medium).
Prepare 1/2 cup of Mayonnaise.
You need 1/4 cup of Vegetable oil.
It's 1/2 cup of Peas,sugar carrots.
Prepare 1/2 of Italian seasoning,parmesan cheese powder.
Olives, peppers, pasta and Parm beckon you to enjoy salad Italian style, slow and carefree. MORE+ LESS If you like simple pasta salads you should try this. I love this in the summer but you could have this any time. I didn't see any other recipes like this that used both dressings so I thought I'd share mine.
Creamy italian antipasto pasta salad instructions
pour pasta in 3/4 quart sauce pan of boiling water. gently boil uncovered13 mins,stirring occasionally.
Add peas,sweetcarrots.
Drain pasta,peas,carrots.rinse with cold water;drain well.
Stir together seasoning parm cheese mayo and oil in med bowl.
(Add chopped tomatoes if desired).
Toss in salami,cheese and peppers toss till well coated refrigerate at least 1hr serve.
They really do go well together. This is pretty versatile and you can add any veggies that you'd like. This Rainbow Antipasto Pasta Salad is the perfect way to use up leftover antipasto ingredients! Plus, it's easy to make, tossed with a zesty Italian herb vinaigrette, and absolutely delicious! I was inspired to make this because I went on a Salami Bender* after the Salami Cream Cheese Roll I shared a couple of weeks ago.